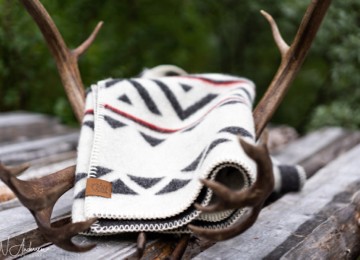 Ratnu woolen blanket
kr2.200
White/grey 
Blanket made from 100% pure Norwegian wool. This ensures a soft, airy and comfortable blanket which is tough enough to stay gorgeous and usable for many years. Ratnu means woolen blanket, and its design takes as a starting point the concept of 'past-future', inspired by a 1400-year-old tradition of patterned woven blanket-making known as 'greneveving'. The ancient reindeer-herders used to throw these patterned blankets, made by coast-dwelling Samis, over their yurt frames as shelter, or slept under them for warmth. 
'I am interested in history,' says Ellinor. 'The partnership between the coast and the plain. How I can pass on this history. The coast-dwelling Samis wove these blankets because they had wool available, and the reindeer-herders traded blankets for reindeer meat. It was a mutually dependent relationship'.  
Size: 135x200cm
Colours: Grey on one side, white on the other, red border on botih sides.  
Weight: 1.6 kg 
Material: Norwegian lambswool 
Washing instructions: Wool wash 30˙, otherwise good airing and light shaking with dry snow is usually enough to keep the blanket clean.   
Blanket delivered in specially designed felt bag.